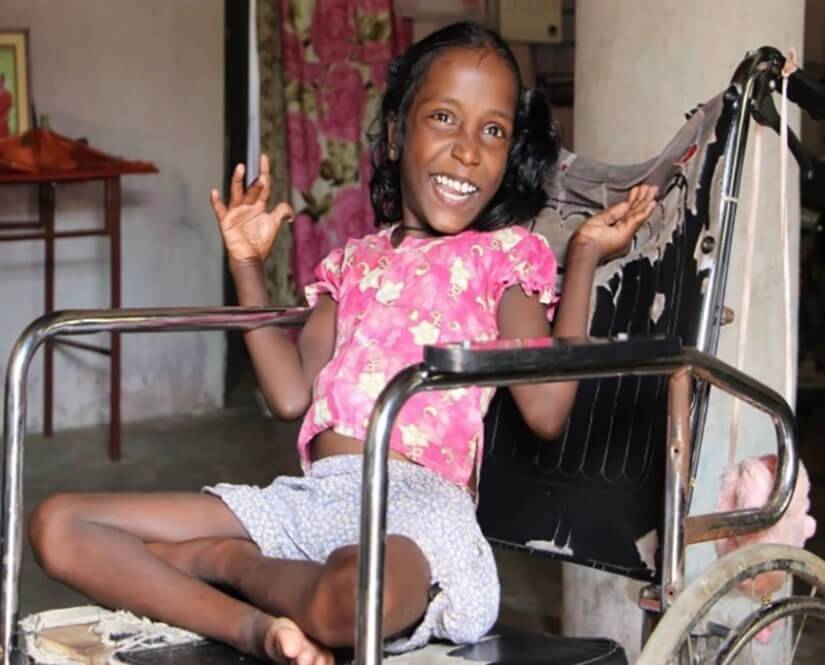 A Differently Abled Dream
Develop basic needs for Special Needs children in vulnerable communities of Sri Lanka
A Differently Abled Dream is a project designed to provide the basic necessities, support and education for the special needs children in the most vulnerable communities of Sri Lanka.
LVAF is a social charity organization and we work completely voluntarily to provide the necessities for the special needs children in this community.
LVAF's core value is to develop awareness among the parents of children with special needs and improve the quality of the child's life in society.

LVAF aims to provide them with the basic necessities like nutritious food aid, healthcare, hygiene, and special education assistance (1st Phase).

LVAF aims to build up centers in such areas to assist the children with therapies and other activities to improve their speech, development, learning skills, and fine hand motor skills along with assisting the parent or caretakers with counseling interventions to improve their perceptions of the condition and developing coping strategies (2nd phase).

LVAF aims to empower the parents or family members economically for the improvement and sustainability of the family's income and financial status(3rd Phase).
-OUR PROMISES TO YOU-
• 97,6% Efficiency:
Lanka Vision Action Foundation will invest 97.6% of public donations received for basic necessities will be invested into direct dietary, healthcare, and hygiene requirements of the special needs children.
All additional donations made to A differently abled Dream will be directed to the needed goods and education assistance.
LVAF does not use public donations to pay logistical costs.
The price charged by GoFundMe is 2.1%, and the foreign bank fee transfer is 0.3%.
• 100% Transparency:
Transparent communication with our contributors about money, risks and issues.
For credibility, transparency and advertising purposes, LVAF has documented project videos on YouTube and any past projects will be available on the company website. Furthermore, we have backup documents for each project and have uploaded all photographs from previous and ongoing projects to our website's gallery. Any medical backup documents can be provided upon request.
• The open-source-way:
Our working methods, contacts, and information are all open-source. Humanitarian relief is not a zero-sum game, and sharing our methods of operation helps to advance the cause.
• Ongoing updates:
Lanka Vision Action Foundation will keep our contributors up to date on the project's development via our GoFundMe, website and social media platforms.
-AID STRUCTURE-
Phase One – Immediate Basic Needs (nutritious food aid, healthcare and hygiene requirements, and special education assistance).
Fundraising goal: $10,000
All donations through our first goal will address the necessities of the family who have a child with special needs.
Phase Two – Building up Centers with therapies and other interventions for special needs children and their parents for free of charge.
Fundraising goal: $15,000
Phase Two donations will be directed towards setting up centers in each area where such communities are in need. As a vulnerable community, the people are already facing economical and infrastructure issues, and are unable to spend on treatments, difficulties in accessing hospitals and community health centers, and also a lack of options are available out of their areas. Therefore LVAF has decided to provide the treatment and other services free of charge for them.
By providing such facilities in centers, it will enable those children to develop their basic life skills and identify their potential. Through this, the parents or guardians, and family members develop some awareness to cope with their child's condition and improve their well-being.
Phase Three- Empower the parents or family members economically for the improvement and sustainability of the family's income and financial status.
Fundraising goal: $25,000
By empowering the family, we are focusing on providing financial stability to begin their micro-businesses to increase the means of income for the family. This will lead to the sustainability of their financial status.
Updates on the projects will be posted on this page.
-WHO WE ARE-
World Action Foundation established with the aim of contributing to sustainable development goals, works under the UN guidelines to enhance the quality of life of the disadvantaged communities in Sri Lanka. LVAF is a Non-Governmental Organization registered under the Companies Act No. 7 of 2007.
Mission
To create and uplift a better future for every Sri Lankan.
Vision
Inspire communities to invest in a movement of change; to finally eliminate poverty and provide better circumstances for future generations.
Values
· Collaboration
· Equality
· Integrity & Transparency
· Respect
· Sustainability
-LIST OF PARTNERS
Some of the local partners that we've worked with:
Lanka Vision Action Foundation
Unity of Humanity