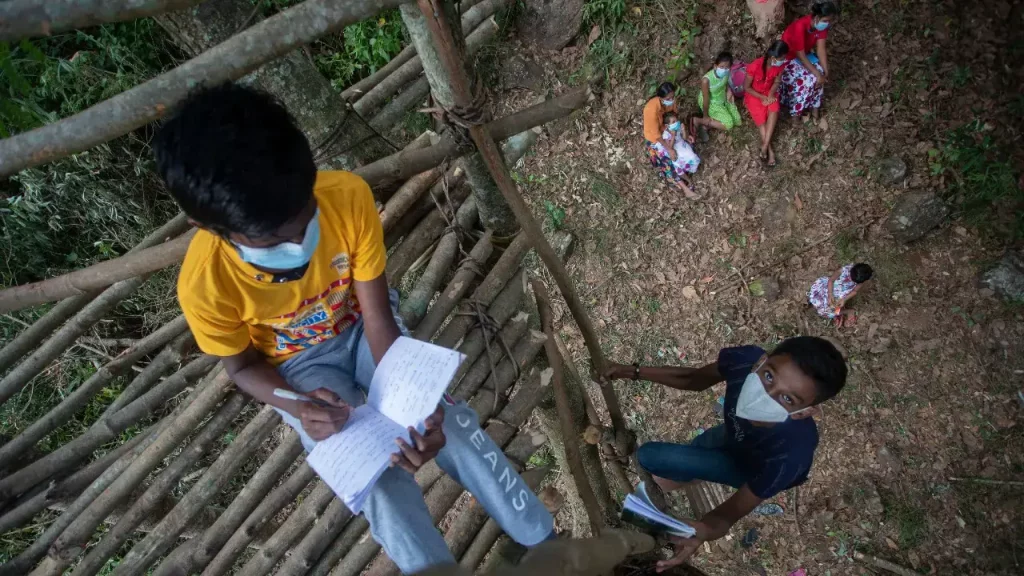 Access to Intuition
A partnership project between Lanka Vision Action Foundation & World Action Foundation
Access to Intuition is a humanitarian project designed to distribute books to all the libraries and to set up libraries for needy schools in the most vulnerable communities around Sri Lanka
To build up a library is to create a life. – Carlos Maria Dominguez
Access to Intuition is a humanitarian project designed to distribute books to all the libraries and to set up libraries for needy schools in the most vulnerable communities around Sri Lanka. This project is executed from district to district. We, Lanka Vision Action Foundation (LVAF) are a team on-site in Sri Lanka and we work completely volunteering to educate Sri Lanka's most vulnerable children.
The Access to Intuition project targets to empower the education of these vulnerable children by providing books to libraries at all the necessary schools in Sri Lanka. (first- phase)
The project aims to empower the education of these vulnerable children by building new libraries or replacing damaged libraries at all the schools in deprived communities around Sri Lanka. (second-phase)
Join hands with us to help these underprivileged schools in Sri Lanka.
-OUR PROMISES TO YOU- 97.6 % Efficiency:
97.6% of public donations received for these schools in vulnerable communities will be invested into direct educational supplies and programs.
All procurement donations made to Lanka Vision Action Foundation will be distributed to the targeted communities mentioned for specific campaigns.
2.1% goes to GoFundMe (fee) and 0.03% goes as the international bank transfer fee
100% Transparency:
Transparent communication with our contributors about money, risks, and issues.
For credibility, transparency and advertising purposes LVAF has documented project videos on YouTube and all the past projects are available on the company website. Furthermore, we have medical backup documents for each project and have uploaded all photographs from previous and ongoing projects to our website's gallery.
The open-source approach:
Our working methods, contacts, and information are all open-source. Humanitarian relief is not a zero-sum game, and sharing our methods of operation helps to advance the cause.
Ongoing updates:
Access to Intuition will keep our contributors up to date on the project's development via our GoFundMe website and social media platforms.
-WHO WE ARE- Lanka Vision Action Foundation was established intending to contribute to sustainable development goals and work under the UN guidelines to enhance the quality of life of the disadvantaged communities in Sri Lanka. LVAF is a Social Services Organization registered under the Companies Act No. 7 of 2007.
Mission:
To create and uplift a better future for every Sri Lankan.
Vision:
Inspire communities to invest in a movement of change; to finally eliminate poverty and provide better circumstances for future generations.
Values:
Collaboration
Equality
Integrity & Transparency
Respect
Sustainability
What do we do?
The organization is devoted to improving and motivating communities to invest in a motion of change to finally abolish poverty and furnish better conditions for future generations. We will be constructing supportable housing for families, providing them with necessities and aiding them with education assistance, healthcare and hygiene. LVAF with our round-the-clock staff, volunteers, and professionals creates grassroots initiatives for effecting positive changes in building community resilience.
Why us?
As an organization striving to inspire people and assist deprived communities, we have assigned our teams to different categories. We have a unique team going to the field to identify targeted groups and address the needs of rural communities. This group gathers specific data through interviews and observations to design our projects. Then with the help of international donors, LVAF gives life to every deserving soul.
-AID STRUCTURE- First Phase – Distributing Books to Schools in Need
        Fundraising goal: US $10, 000

All donations through our first goal of US $ will address providing books to the libraries in needy schools in rural communities around Sri Lanka to facilitate their education.
Second Phase – Building and Replacing Libraries at Schools in Need
        Fundraising goal: US $20, 000

The second phase of donations will be directed towards the educational empowerment of these vulnerable children in needy schools in Sri Lanka by constructing libraries and renovating destructed libraries.
Updates on individual sustainable projects will be posted on this page.
-LIST OF PARTNERS-
Some of the local partners that we've worked with:
Lanka Vision Action Foundation
Unity of Humanity