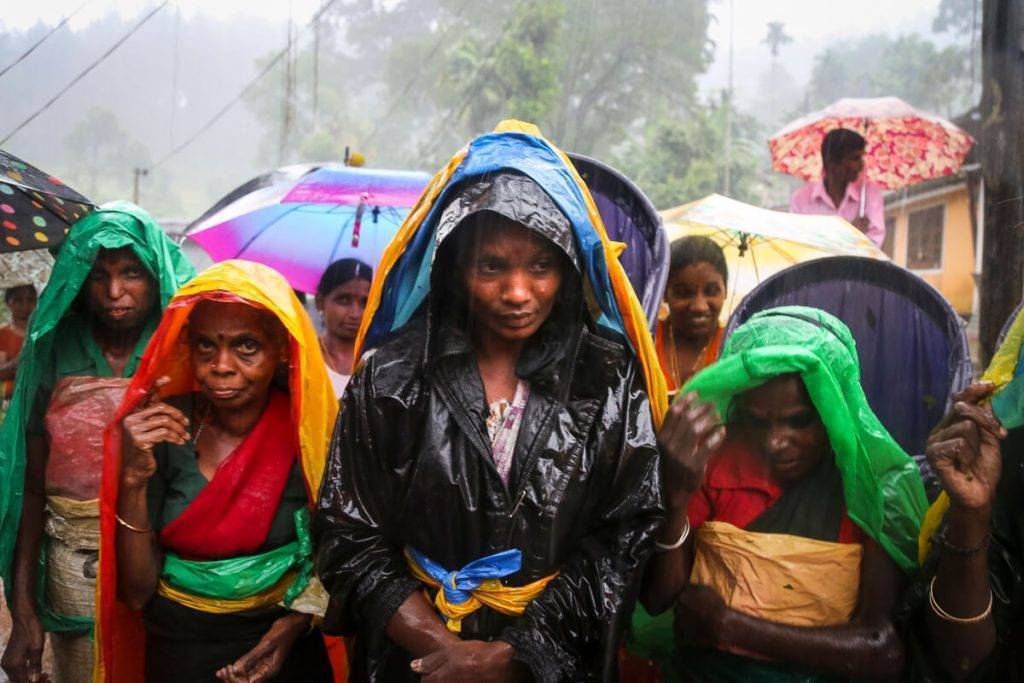 Tears Behind The Tea
A partnership project between Lanka Vision Action Foundation & World Action Foundation
Help Tea Estate workers in Sri Lanka who are the reason behind the tea we drink worldwide
In Sri Lanka, we face so many issues that you would never know existed. You may see videos of Sri Lanka as a beautiful paradise, but have you seen the other side of it? The majority of the children and their families are malnourished, don't even have access to clean water nor do most of them even have a roof over their heads. Lanka Vision Action Foundation is a social service organization created to finally end their suffering.
Worldwide, people are drinking tea from Sri Lanka, but the tea estate communities are among the most neglected communities. They work in hard labor jobs and most of these tea estate workers earn about $2 USD for an entire day's work picking over 20KG of tea leaves in that one day. Children are unlikely to pursue their education living in the tea estates, due to not having access to closer schools, resources and a lack of teachers. When their family is earning only about $2 USD a day, this is not enough to feed their family, forcing their children to drop out of school and start working at a young age. The fate of these children is not their choice, but they can't afford to pursue learning and are already at a disadvantage from birth.
Lanka Vision Action Foundation and our volunteers work hands-on with every vulnerable individual in the tea estates of Sri Lanka to provide them with a sustainable and happy life.
Aims to relieve financial pressure through emergency food aid to tea estate communities of Sri Lanka
To assist in staff education, and provide the needs (stationery, books, desks, chairs, educational toys, etc.) in the daycares of every tea estate
Create opportunities for education through university scholarships and extra tutoring
Create income generation opportunities for families and provide the necessary procurements (sewing machines, vegetables, animals, etc.) to establish their new venture Join us in feeding and helping the Sri Lankan people in need
-OUR PROMISES TO YOU-
97.6 % Efficiency: –
97.6% of public donations received for the tea estate communities will be invested into direct food relief, education and healthcare.
All procurement donations made to Lanka Vision Action Foundation will be distributed to the targeted communities mentioned for specific campaigns.
2.1% goes to gofundme (fee) and 0.03% goes to the international bank transfer fee
100% transparency: –
Financial Documentation can be provided on all finances in relation to Lanka Vision Action Foundation Every project phase is documented through video, images and reports and can be found on our website All progress and final project videos can be found on our YouTube page
Regular updates: LVAF will regularly update our donors on the project's progress via our GoFundMe page and our social media accounts.
-WHO WE ARE-
On Feb 13, 2022, we started 'Lanka Vision Action Foundation'. • A local volunteer-based social service organization aiming to provide food, education and income generation opportunities in Sri Lanka • Since opening our doors, we have taken 100% of the funds and done emergency food relief in Ramboda Estate, Nuwara Eliya District and Choisy Estate, North Pundaluouya providing 10,500 meals.
-AID STRUCTURE-
1st Phase – Emergency Food Relief Fundraising goal: US$10,000
Donations towards the 1st phase threshold will address emergency food aid for the most vulnerable families in the tea estates of Sri Lanka
Second Phase – Crèche Rehabilitation (daycare centers in tea estate)
Fundraising goal: US$10,000 Phase 2 donations will be directed towards providing for the specific needs of each estate. Whether the crèche needs food, educational material/toys, desks, chairs, stationary, cribs, etc. The second destination of donations in the second phase will be used to hire more teachers, educate teachers as well as improve and rebuild whatever the crutches are lacking.
Third phase- education Fundraising goal: $20,000
Phase 3 donations will be allocated to primary schools and high schools. We will be providing both schools with the necessary assistance and resources based on the specific needs of each school. This will include supplies like stationary, chairs, desks, books, and conducting educational programs. The programs consist of career guidance programs, extracurricular tutoring, parental awareness programs, and lastly our scholarship program. A number of students receiving admission into a university that are unable to afford to pursue their education will be provided scholarships. The career guidance programs will be started at an earlier age to assure children have the support and guidance in selecting courses and pursuing their career paths as most children don't know what courses are necessary for the field of their choice.
Fourth phase- Medical camps (doctor checks) Fundraising goal: $10,000
Phase four donations will be directed to pop-up medical camps and doctor checkups in each estate. This will include a practitioner in each of the following sectors: General health, Children's Health, Mental health, Optical care, and Dental Health.
Fifth phase- Women Empowerment and Income Generation Fundraising goal: $10,000
Phase 5 donations will be divided into 2 sections. The first destination of donations for this phase will go towards providing sanitary hygiene products to women who cannot afford this luxury. The second destination of donations for this phase will go towards micro-business workshops and supplying the initial start-up of these. This can include resources like sewing machines, animals, vegetation plants, and etc.
Updates will be posted on our webpage and our YouTube channel.
-LIST OF PARTNERS-
Some of the global partners that we've worked with:
World Action Foundation
Unity of Humanity
-SOCIAL MEDIA-
Follow our work on our social media channels
Website: www.lankaaction.com Facebook
Instagram YouTube Tiktok Twitter
Please donate now and help us fund these projects. Every $1 will make such a huge difference. Even just sharing this video and link can feed a child who may not be sure if he or she will be having a meal of food tomorrow.
Thank you so much, and please subscribe to our YouTube channel to stay updated with the progress of each project as funds are raised!